Wyoming Guided Black Bear Hunts - Spring & Fall
5-Day Black Bear Hunt
Spring bear hunts in Wyoming take place from May 1- May25th or until the quota fills. All hunting is done over established baits with rifle or bow in the mountains. Color phase bears are common in the area. Big bruins will be roaming in late May looking for sows. Come enjoy what spring has to offer in the Big Horns, you will see lots of elk and moose with their newborn calves also.
Fall hunts run from Sept. 1-4. Hunts take place in the mountains at our elk camp over established baits. Bears have long, even coats by this time in preparation for the long winter. Hunter success 75%. Over the counter tags.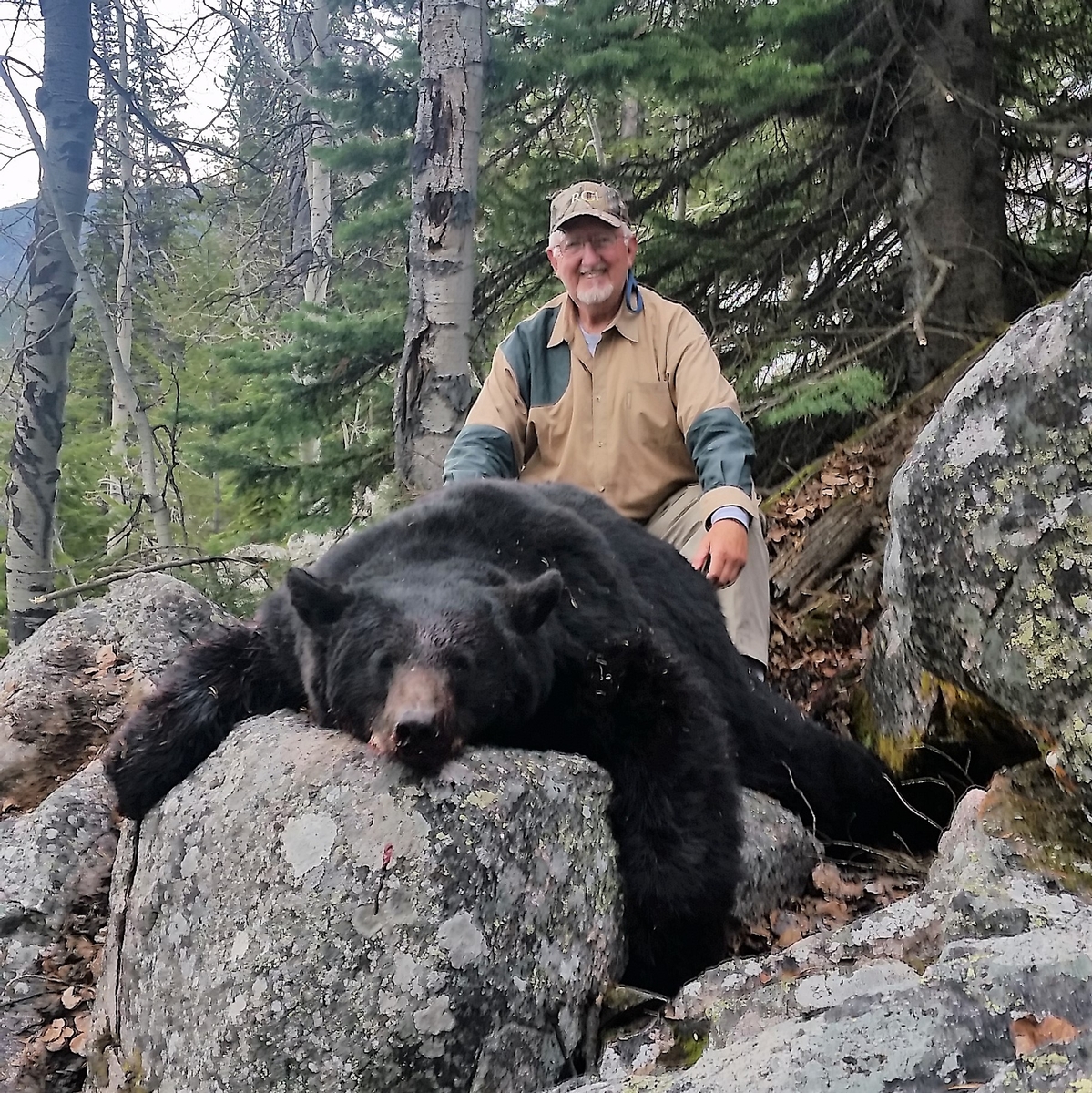 Spring Bear Hunts Wyoming
During the hunt you will stay in a modern log hunting lodge with all the comforts of home. Spring in the Bighorn Mountains can be unpredictable and coming back to a warm cabin with a hot shower makes for a comfortable week of hunting.
The Black Bear Hunt
All hunting is done over established baits, some of these baits have been around for 20 plus years and produce year after year. Color phase bears are common in the area. Most baits will have 3 to 5 bears coming to them. Big boars will be roaming in late May searching for hot sows. We take some of the biggest boars at this time. Most of the hunting is done in the afternoons and evenings. Mornings can be spent lounging around or doing some sight seeing, there are lots of elk and shiras moose visible with newborn calves this time of year. If the sun is out rockdog hunting is also an option. We usually head out around 2 or 3 to hunt and sit on a bait until dark. Shots range from 75 yards to 200 yards depending on the bait site. Hunter success rate is typically 75% on this hunt.
Wyoming Spring Bear Hunting Season
The biggest factor is the weather. Spring snow storms can slow the hunting down but after they clear the bears come out hungry. Come enjoy what spring has to offer in the Big Horns! Spring hunts take place from May 1- June 5.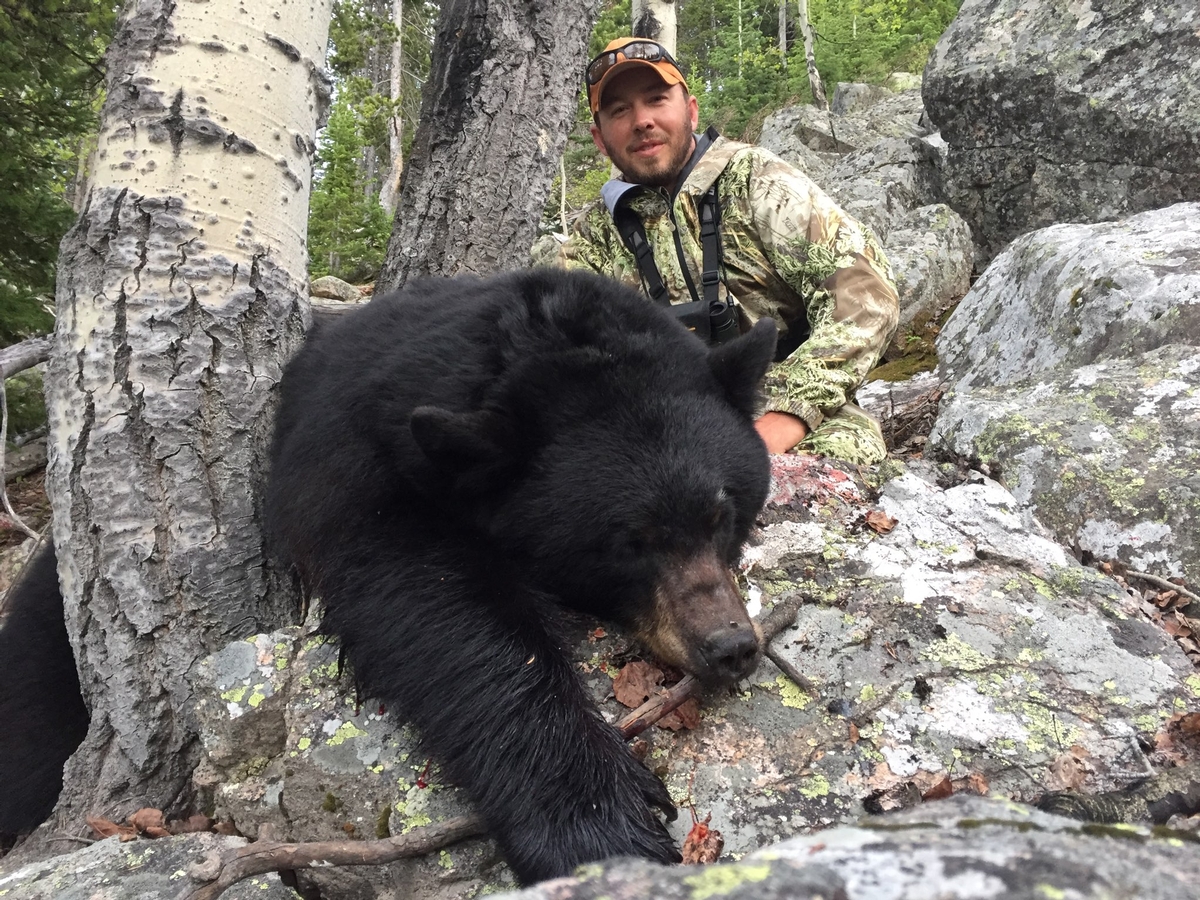 Guided Fall Bear Hunts in Wyoming
The Fall Bear Hunt
Fall bear hunters will stay at our outfitted tent camp during their hunt. Mornings are usually spent lounging around camp after a hearty breakfast. There is some great trout fishing below camp and you can also hunt blue grouse is you choose. Depending on which bait you will be hunting we usually head out of camp between noon and 3pm and hunt until dark which is around 8pm. After the hunt we return to camp for a hearty meal and tales of the days hunts. Bears this time of year all have long even coats of 4 to 5 inches in preparation for winters hibernation which comes earlier in the mountains than most places. This insures a beautiful rug or mount. You can expect to see multiple bears on this hunt as they are getting prepared for winter and success rate on this hunt is close to 100%.
Wyoming Fall Bear Hunting Season
The biggest difference in the fall hunt from the spring hunt is the weather, early September in the mountains is beautiful with sun and highs in the 60's to 70's with lows in the 30's. Spring weather varies from year to year, we can get snow storms on these hunts which typically slows the bears down and we see fewer bears.
Fall bear hunts run September 1-4th.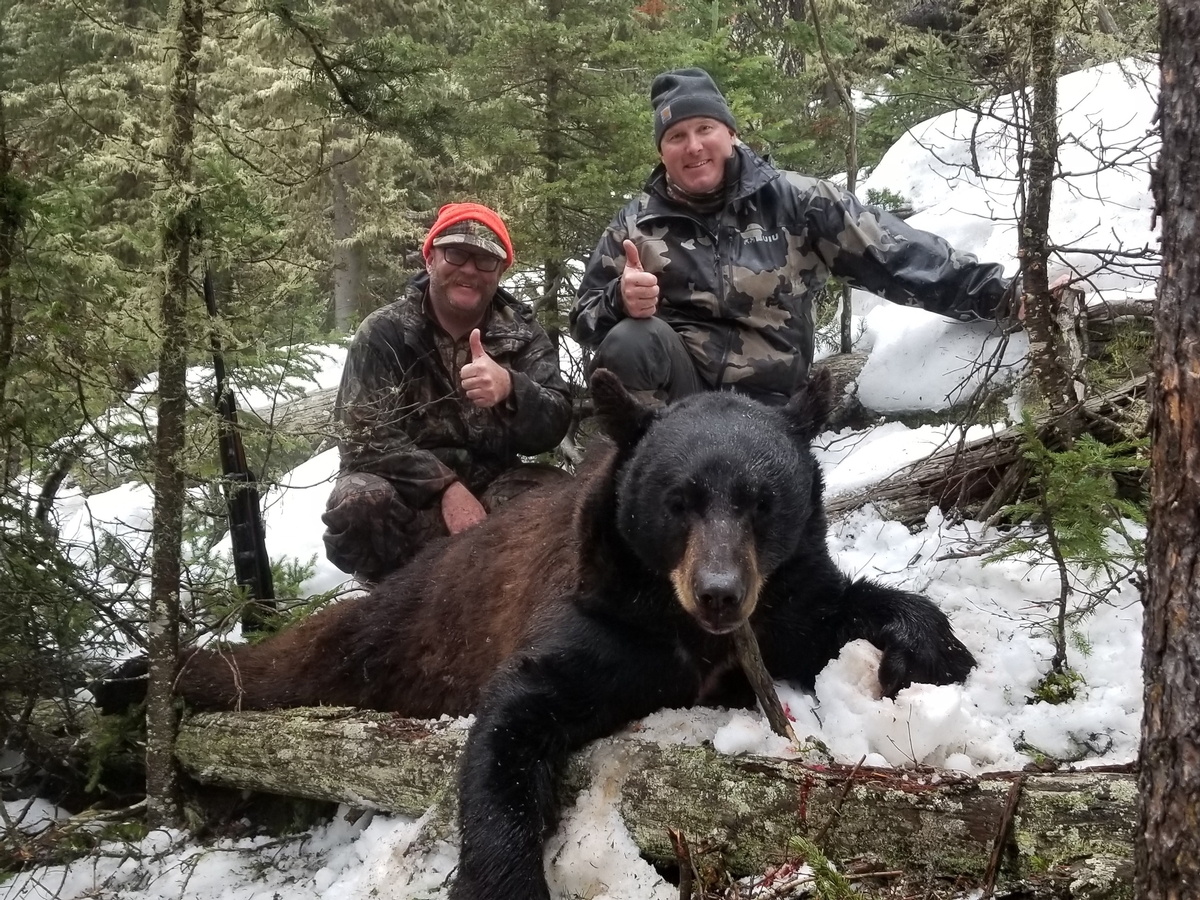 Black Bear Hunting Trip Details
Two hunters per guide on all hunts
1x1 hunts available for $1000 extra
Food
Lodging
Transportation of meats and mounts to processing plant or taxidermist
No hidden costs
We can make arrangements to pick you up at the Sheridan, Wyoming airport if you plan to fly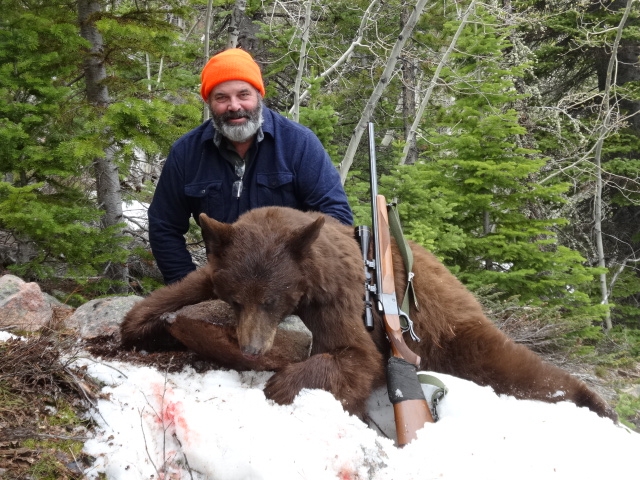 Black Bear Hunting Rates
Spring Black Bear Hunting
Length: 5-Day
Cost: $4,500 + License Fees
Hunting Dates: May 1st - 25th
Application Dates: Over The Counter
Fall Black Bear Hunting
Length: 4-Day
Cost: $3,800+ License Fees
Hunting Dates: Sept. 1st - 4th
Application Dates: Over The Counter